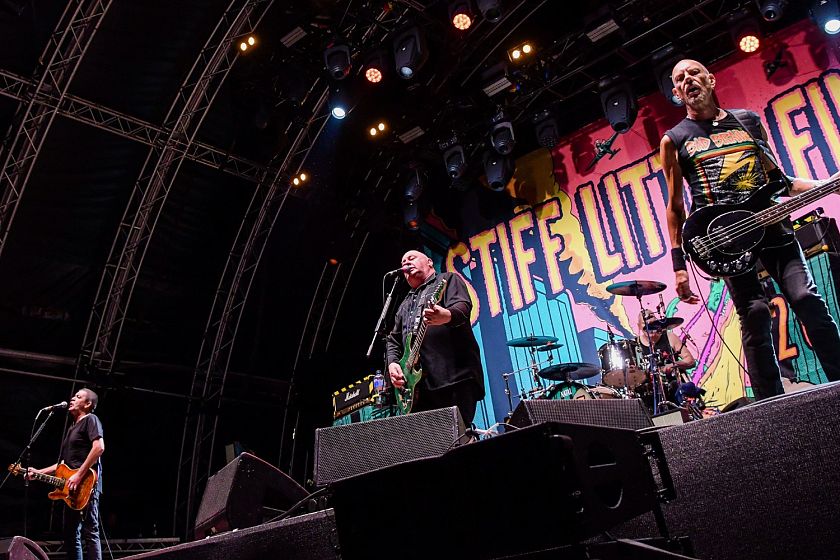 Stiff Little Fingers
Stiff Little Fingers
"If ever there was a place on this gobshite planet to incubate good punk rock, that place is Belfast. And sure enough, the Northern Ireland capital gifted us with one of the greatest punk bands of all time, Stiff Little Fingers. Rather than wallow in the provocative-for-provocation's-sake nihilism of their English counterparts, Stiff Little Fingers drew from first-hand experience of their hometown's Troubles, imbuing their frustration with their island's inherent, elegiac tunefulness.... And the Fingers are still soldiering on, with original singer/guitarist Jake Burns and bassist Ali McMordie joined by guitarist Ian McCallum and drummer Steve Grantley. Like their peers, Stiff Little Fingers give a two-fingered salute to the hypocrisy of the world, but unlike others, their music locates hope amid the rage. " --Portland Mercury
Highlights
*Over 45 years together. Formed in 1977 in Belfast, Northern Ireland - Stiff Little Fingers were at the forefront of the UK Punk movement.
*Their hit singles "Suspect Device" and "Alternative Ulster" are pillars of the house that punk built. "Alternative Ulster" was featured in the Xbox 360 and PlayStation 3 game Skate 2 and "Suspect Device" made an appearance in the critically acclaimed film High Fidelity starring John Cusack and Jack Black.
*On Tour in UK annually every March including in 2023, their 30th annual SOLD OUT two nighter in Glasgow at the famous Barrowland Ballroom.
*44 years since their iconic debut album "Inflammable Material" and with 10 studio albums now under their belt, their energetic live set features an array of classic tracks from these releases.